This afternoon I was having a conversation about cats with a co-worker. "Why do they prefer the plastic construction tarp (I was having a damaged ceiling repaired) to all the more comfortable locations around the house?" I wondered.
I showed her the silly cat photo: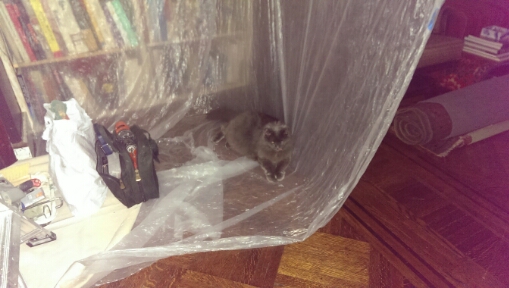 My friend started scrolling through the photos on my phone. She stopped at a heart-shaped cloud and said she liked it.  I told her that I regularly post photos of heart shapes I notice as I go about my day.  I said that it is a reminder to myself to be open-hearted (but with boundaries) as I live each day.
She said that she noticed heart shapes, too. She said that there had been a some kind of food or drink spill in the file room–she was sure that no one would have cleaned it up–that was a perfect heart shape.
We went to the file room. Yes, there it was, a sticky heart.