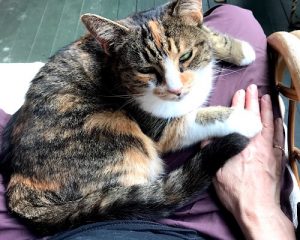 Elizabeth is a life-long meditator, a practicing Quaker, an avid reader, and a Reiki master, who sometimes draws or makes things or writes haiku, and who spends a lot of time reading, walking, taking photographs, cooking, and growing things to eat in a remarkably productive, but very small urban garden.  Elizabeth is especially passionate about seeking to take the teachings of yoga off of the mat and into daily life, especially with respect to how we relate to our work, community, and society–both local and global, and our own self-nurture and work, including diet and lifestyle.  Elizabeth's teaching expresses the belief that the practice of yoga helps us align with our true nature, enabling us to be more compassionate and generous to our living planet, all other beings and ourselves, and that yoga is for everyone. Elizabeth has contemplated and is yet undecided as to the most self-descriptive pronouns.
Elizabeth's study of yoga is informed by a career in the law, avocation as an artist, background in dance and philosophy, and personal experience of the world, relationships, and creativity.  At this point in practicing and making offering, Elizabeth continues to be informed by more focused studies and practices, but invites more fluidity in exploration of traditional forms, and has been especially interested and open to exploring alternative venues and communities for sharing the practices.
Elizabeth began teaching in 2001, was certified as an Anusara yoga instructor from 2007 to 2012, and currently maintains E-RYT 500 status with Yoga Alliance.  Most recently Elizabeth has been furthering self-study through meditation practices and teacher gatherings and trainings led by Cyndi Lee, participating in regular practices with Reggie Hubbard ("Active Peace Yoga"), participating in workshops and the Patreon communities led by CtznWell and Michelle Cassandra Johnson, and taking workshops and practicing with the books of Dianne Bondy. Past explorations of influence also include embodied asana with Amy Matthews, contact improvisation. studies in Indian mythology and philosophy with Douglas Brooks, including travel to India, and two and half years of intensive study and practice of mantra-based meditation and yoga philosophy with Paul Muller-Ortega.
Elizabeth was born on the island of Manhattan, has been living in and walking around and photographing the Capitol Hill neighborhood for more than half her life.
También, Elizabeth ha estado estudiando español durante esta administración y quisiera tomar y quizás enseñar clases en español en el futuro.
Follow Elizabeth on Facebook