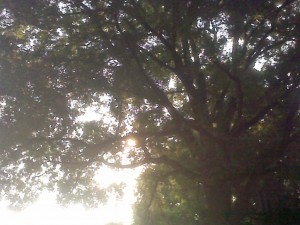 Dear Friends,
Yesterday, summer officially arrived with the Solstice, bringing with it blistering heat.  Friend and student Jessica said at practice last night that it was as if Mother Nature–always in the know– looked at her wrist watch, said "hey, it's summer" and then turned up the dial on the thermostat.  The cats who are ever in tune with what will make their bodies happiest under the circumstances, this morning declined to go out on the catio or curl up on upholstered furniture, preferring instead to lie stretched out on the floor in a dark corner or under the furniture where it is coolest.   In the heat of DC summers, I walk first thing in the morning after meditating and at the end of the work day, which both avoids the hottest part of the day and takes advantage of how long the day is light.  It is for weather like this that the gods created the siesta.  I walk a lot more slowly than I do when it is below freezing, but as long as I remember this inevitable seasonal change in pace, I arrive on time without getting overheated.  I feel blessed to live in a society in which I can go out in sandals and a sun dress (and a big cotton hat–portable shade) and not transgress societal notions of respectability.
Adapting to the seasonal shifts in climate, diet, and dress may seem seamless at this point, but I know that it has come from decades of mindful practice and study (of cooking, gardening, nutrition, amateur meteorology, yoga and related practices, and techniques for nurturing  and supporting my mind-body generally) and there is always more I can learn to be better attuned.
In this regard, the following quote from Sally Schneider's The Improvisational Cook, which I had picked up the last time I worked a volunteer shift at The Lantern, made me think about how much the yoga (especially asana practice) has taught me about the balance of recognizing limitations and making the best of what is:
"Makeshift is a wonderfully expressive term for 'making a shift,' shifting your thinking to come up with a creative solution that accomplishes the task at hand in an unexpected way.  There's only one rule:  whatever works."
In my own improvisational cooking style, I am inclined to emphasize different ingredients and methods than Schneider, but I like what she teaches about how to be a cook.  I really appreciated her use of "makeshift" rather than "make do" in this context.  "Makeshift" indeed gives room for thinking of limitations as an opportunity to shift potential outcomes, including our own feelings of empowerment and enjoyment (bhoga).  In Schneider's case, she gave as an example using a fork instead of a citrus reamer to juice a lemon, but I think that the principle of making a shift to maximize and celebrate what is at hand rather than getting tangled up in or stymied by what one does not have applies to any learning to enhance our efforts and experiences through technique.  One of the greatest gifts of yoga is how it teaches and invites us to deepen the understanding and recognition of how we are in the world so that we can make a shift rather than just making do or being disappointed by our challenges and limits.  Ever increasing sensitivity to ourselves in the world as an essential part of our practice enables us to take this tool that is our body-mind and live the most creative and enspirited expression possible of being an embodied participant in this community of the earth.
Most of you are likely to have your schedule constrained by summer travel plans and work and visitors coming, but including yoga will only make this energetic season better.  You might not be able to take class every week on the same night, but making the time for yoga by choosing to register for a class or planning regular drop ins will make it easier to stay committed to your practice and reap its benefits.
Registration has opened for the summer session at Willow Street.  The Gentle/Therapeutics class Friday nights from 5:30-7 in Takoma Park continues, and as part of free class weekend, I will be offering a free class on Friday July 13th to introduce the offering to those new to Willow Street or the class.  Willow Street is running some great deals for registered students and has a fantastic and flexible make-up policy.  Check it out and register.
Join us any or every week this summer for the all levels/all are welcome class at William Penn House on Tuesday nights from 6:30-7:45.  Please don't let means keep you away; if the suggested sliding scale does not work for you, bring what you can.  If you're working with a challenge of embodiment or seeking to advance your practice in a particular way, I always offer suggestions and variations for each student.  As always, extend the invitation to participate to friends and family.  More experienced yogis should email me separately about joining the house practice.
FYI, I will be on travel the week of 4th of July to visit with friends and to study yoga philosophy with Professor Douglas Brooks.  This means no Capitol Hill neighborhood classes July 3rd or 4th, but I will be bringing home lots of new thinking to share the following week and those to come.
If you haven't already, feel free to join me on Facebook or subscribe to the blog to get in-between newsletter updates and offerings.
I look forward to seeing you and sharing the best of summer.
Peace and light,
Elizabeth