The grapes are not nearly as bountiful as last year.  The first 90F week was too early and sudden, which blasted dozens of newly formed grapes.  And then it was too wet and cool.  The few figs dried before ripening.  But it was a great spring for kale and chard, and the cherry tomatoes are pretty happy.  That the weather makes some things happier and some less happy is a tangible reminder why mono-cultures are so risky a venture.  One of the greatest gifts I get from the "failures" in my edible garden is gratitude.  I am reminded of how fortunate I am that the only repercussions of something not growing or producing well is that I have to buy more produce at the farm market or the grocery store.
The rains and now the heat are  wondrous lovely for the mosquitoes.  Here's me dressing for a morning's work in the garden. You might laugh, but I only got two bites in over three hours in the garden, which included watering.  It likely would have been at least a dozen in loose trousers or shorts and a t-shirt.  This is also the outfit of choice when hiking in the woods filled with deer and mice and lyme-disease bearing ticks.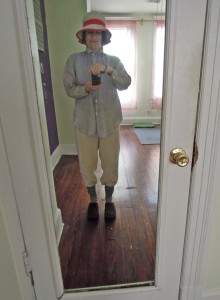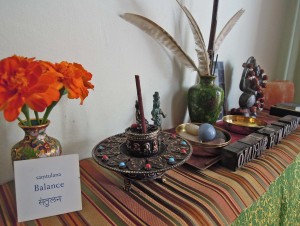 I picked the marigolds yesterday to put on the altar.  The puja card of the day was "balance" or "samtulana."  It was a perfect concept to meditate on for the day because little brings me back into balance better than spending a few hours gardening, and I've been feeling off-kilter.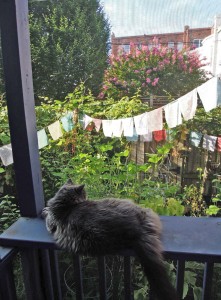 Uma, of course, was there to lend moral support.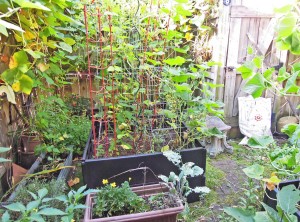 The "before" picture gives some idea of how simultaneously overgrown from the rains and heat-blasted from the past week everything was.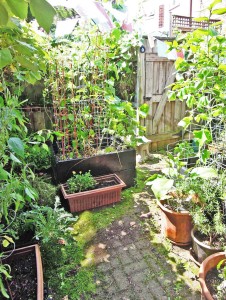 The "after" picture doesn't reflect as much as I would like how much of a difference three and a half hours of weeding, deadheading, clipping, rearranging, harvesting, feeding, and watering made.  When I got hungry, I just picked sun-warmed, just ripened grapes and then got back to work.  Lunch, of course, emphasized contributions from the garden.