When my students arrived at William Penn House last night for class, I said, "yes, I knew him; they are both my co-workers."  I didn't need to say anything else.  All of them read the Washington Post and know that I work for the Department of Labor in the area of pension benefits.  I said that I was shaken by the news, and I would offer the best practice I could.  At my invitation, we worked on grounding, being heavy in the best meaning of heavy so that we would feel the stability to rise and to stay graceful and open as we practiced some challenging standing poses and backbends, leading to a modified version of natarajasana (dancing in the cosmic fire).
One co-worker is dead (either suicide or murder in his jail cell) after having severely injured another.  Yes, we all worked in the same office for three years when I first started at the Department in 1991 and episodically have worked on common projects for almost 22 years, most recently just three weeks ago. Had it been a fatal accident or a heart attack, a few dozen of us would have been at the funeral and spoken of what we liked about him.  It wouldn't have been the horrified questioning ourselves and each other of what possibly could have gone so terribly, shockingly wrong.  The grieving and sense of loss are no less present and real, though, for the recoiling from his last acts and the salacious and rapacious local media coverage.
Quaker practice has me holding those affected in the light–he and his family and she and hers, and our co-workers.  On hearing yesterday that he had died in jail, I was moved to chant the maha mrityunjaya mantra.  I was taught that chanting this mantra every day for 30 days can help a spirit cross-over.  What is spirit and to where it might be crossing was not really explained because how could it be?  But I do think chanting with such an intention can be a useful tool to help focus one's own emotional process and healing in connection with a death.
For some background on the mantra, you might want to start with this overview with useful links published by the Himalayan Institute (be advised that though citing to the YI because of the breadth of coverage, to get to the basic details, I needed to ignore the cheesy graphics and the use of the term "Lord" before Shiva in the linked article on what the author says are appropriate uses of the mantra).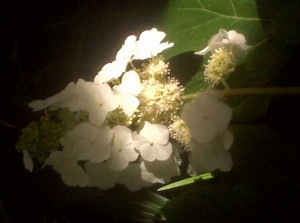 My co-worker gave me this oakleaf hydrangea about 10-12 years ago; his brother had pulled an extra seedling that was an offshoot  from a larger plant in his yard.  It did not start thriving until two seasons ago when I moved it to a different corner of my front garden.