This bumper sticker (on an enormous black SUV with suburban plates) is likely intended to have only a message about the current wars in which the US is engaged. I wholeheartedly support the sentiment at that level.
What if we took it at other levels? What if we applied it to spiritual-religious practices? We could interpret this as suggesting that we honor the great teachers who have gone before us, invite religious observance and spiritual practice to heal ourselves and others, and dissolve notions of differences among religions and spiritual practices as bases for conflict. How many wars between countries or civil wars would end if saw unity while still honoring difference in this regard?
Perhaps most cogent for the yogi: what if we thought of the exhortation in terms of our own personal practice? It would be an invocation to honor our ancestors, heal the wounds of our family and upbringing (samskaras), and release inner conflict. This is, I think the point of practicing (whatever the style of practice) so that true peace can abound.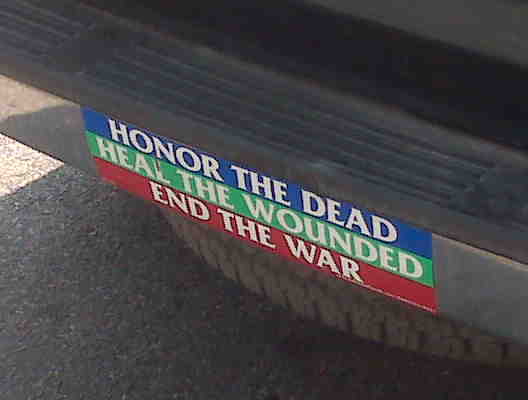 Peace and light, E — Posted with WordPress for BlackBerry.